What's Essential Rewards?
Essential Rewards (ER) is Young Living's rewards program that delivers a customisable wellness box to your doorstep on the same day of each month! You earn a percentage of points back for each order that you can later redeem for free product. You also get discounted shipping and exclusive products/deals.
Here's a quick overview of what you get with ER: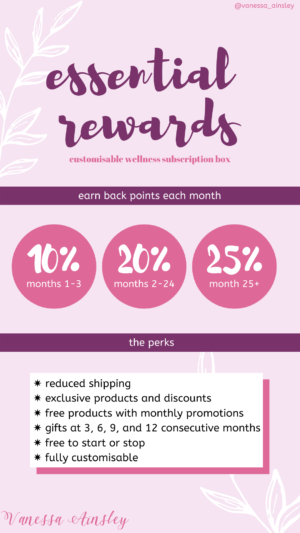 Frequently Asked Questions
1. Is Essential Rewards mandatory?

No, it's completely optional! You can choose to purchase a Starter Kit without becoming an ER member, but you can also use your Starter Kit as your first ER order, earning points back immediately!
2. Is there a monthly order requirement to stay on ER?

Yes, there is a minimum PV requirement, depending on the market you're in. In the USA, each monthly order must be 50 PV and above (which is approximately 50 USD). In Singapore, each monthly order must be 100 PV and above (which is approximately $180 SGD).
3. If I buy a Starter Bundle and become a member but I don't join ER, can I still order more products?

Yes! You will still get membership pricing (24% off retail) if you're not on ER. Just make a standard order. There's no minimum order requirement, you just miss out on earning rewards points back and redeeming free products!
4. Is there a cancellation fee if I decide I want to stop?
No, you can start or stop at any time with no commitment to stay on the program and no penalty fees! You just need to call member services in your region and ask them to cancel your ER. Easy peasy! Just remember to redeem all ER points that you've accumulated before you cancel because once you cancel, all points will be reset to zero. Also, be aware that if you stop ER and rejoin later on, you'll start again from the beginning tier (ie. You'll start back at month 1 earning 10% back).